Mission
The group is associated with IPK's Federal Ex situ Gene Bank for agricultural and horticultural plants, and is responsible for the mid- and long-term preservation of those plant genetic resources which require clonal propagation. A collection of 250 accessions of Allium spp., antirrhinum and mint, all of which are available to external users, is maintained in vitro under mid-term storage conditions. In addition, dried leaf samples of 450 Allium spp. accessions are available to researchers as a source of genomic DNA. Materials requiring long term (>100 years) preservation are currently maintained at ‑196°C. At present, this resource comprises >1,845 accessions of potato, 191 of Allium spp. and 157 of mint, thereby representing one of the world's most extensive plant cryobanks. The materials can be made available as back-up samples for breeding and research.
An important focus of the group's research relates to optimising cryostorage methodology, as well as developing protocols applicable for new species and/or plant organs, since this is required to maintain the regenerability of samples subjected to long term storage. Other aspects of the research include genotyping the garlic and shallot collection, characterising the effect of endophytes on the vitality of plant organs, and exploring the biochemical and molecular genetic mechanisms at play during either cryopreservation or the process of preserving desiccation-sensitive organs. The group has established a level of expertise in dealing with wheat pollen, using specialised technical equipment such as a pollen analyser, a differential scanning calorimeter and a video-cryomicroscope.
scroll top
Projects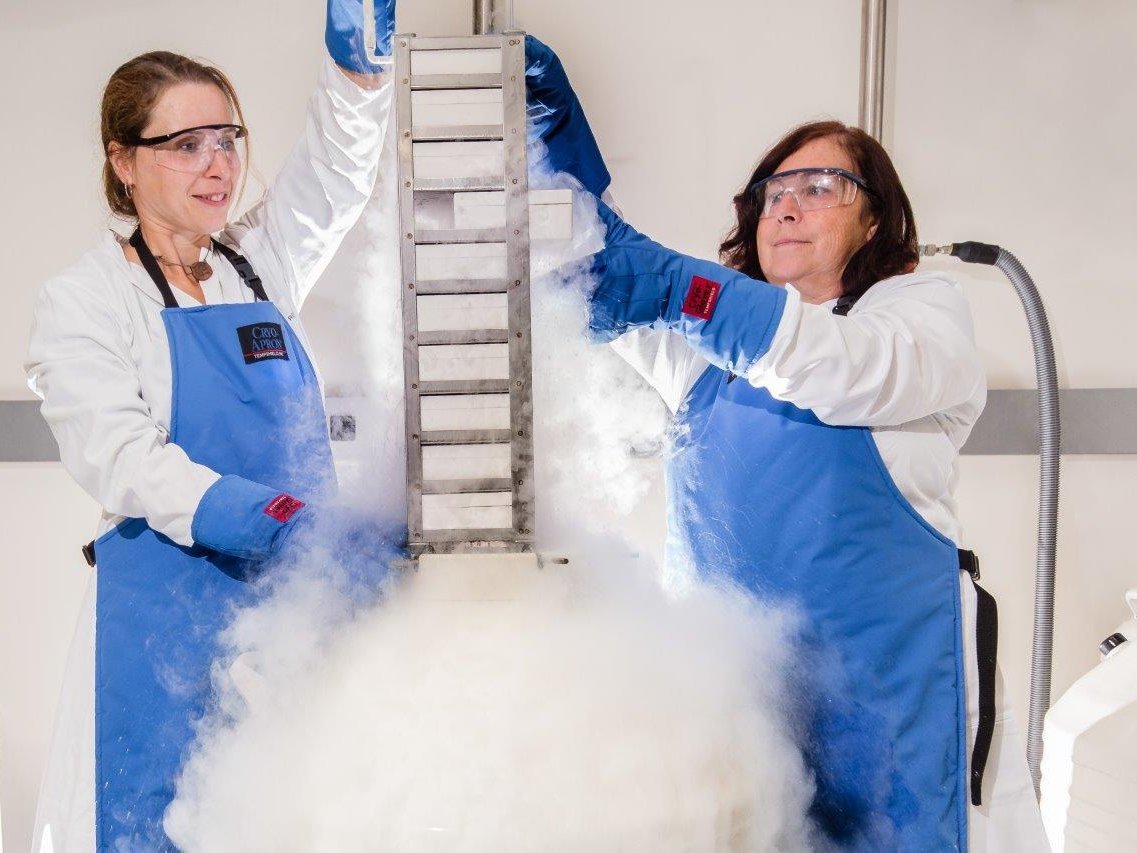 Cryopreservation
Cryopreservation is routinely used for back-up storage of vegetatively propagated plant material. In this preservation approach, meristematic tissues, pollen and plant embryos are used or dissected and stored at -196°C in liquid nitrogen. Here, vitrification methods are used to counteract the formation of ice crystals by removing and exchanging water with highly concentrated cryoprotector solutions. Due to the subsequent application of ultra-low temperatures, a stagnation of all metabolic processes is assumed, which maintains the vitality of the cells for a theoretically unlimited period of time. The Gatersleben cryobank comprises a stock of more than 2,237 plant accessions (as of 31.10.2020), which are stored as duplicates in Gatersleben and externally.
In vitro-Storage
Plant species that need to be maintained vegetatively, such as seedless garlic, mint and Brassica accessions, as well as plants that are only maintained clonally as a variety due to their heterogeneous seeds, such as potato, can be safely stored in vitro in so-called 'slow-growth' storage. This preservation type has the advantage that the plants grow free from environmental influences and are thus not exposed to the risks of the field, such as the accumulation of pathogens (viruses, bacteria, fungi), pest infestation and loss due to extreme weather conditions. Low temperatures, reduced light and nutrient supply slow down plant growth, making it possible to store plants without subculture for up to two years. The Gatersleben slow-growth storage currently comprises a collection of around 251 accessions maintained at 2, 10 and 22°C (as of 31.10.2020).
Desiccation sensitive cereal pollen
Cereal pollen, such as that of wheat, barley and rye, is extremely sensitive to dehydration and low temperatures. For this reason, cereal pollen loses its viability within a very short period. The aim of the project is to analyse biochemical and genetic mechanisms during the loss of vitality of cereal pollen in order to predict suitable storage conditions for cereal pollen and to make stored pollen available for crossing experiments.
scroll top
Staff
Nagel, PD Dr. Manuela

0000-0003-0396-0333
Sanchez Mejia, Alexa

0000-0001-8361-1218
Scientific guests / Fellowship
Kishchenko, Dr. Olena

0000-0003-4768-2822
Peterson, Anton

0000-0002-1633-5388
Gruebe, Marion

0000-0003-2220-1981
scroll top
Publications