Mission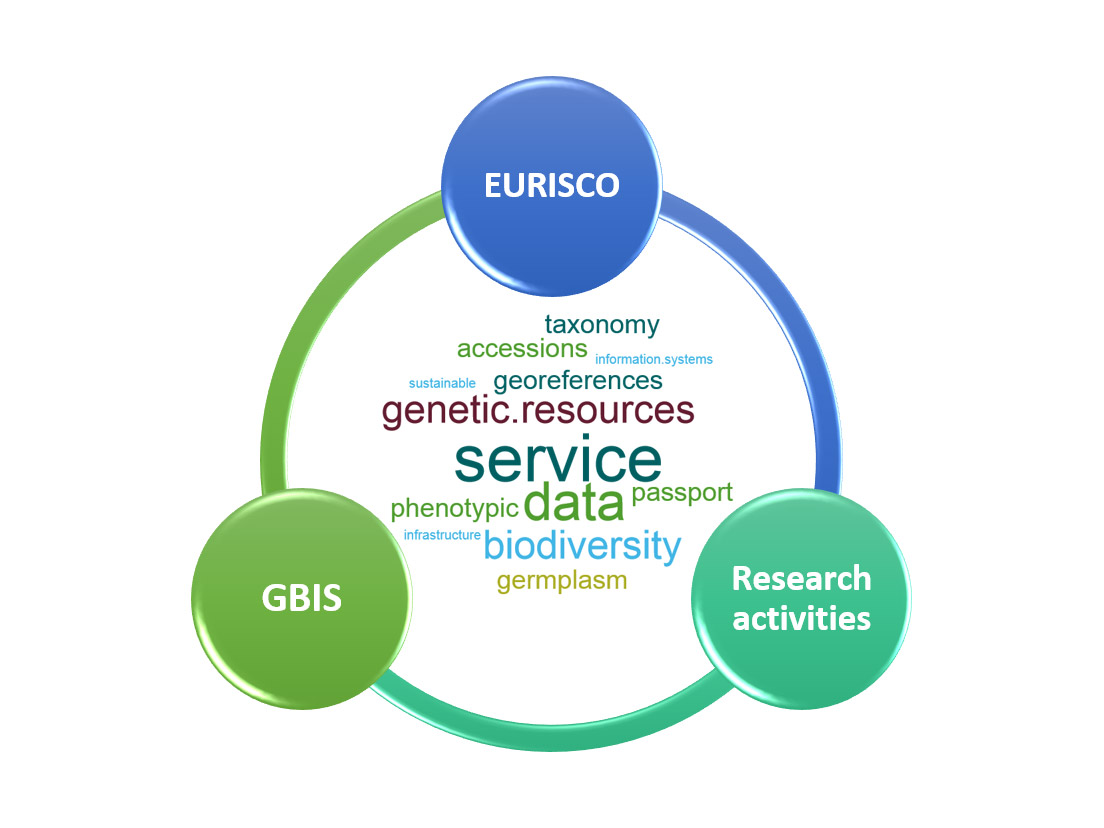 The activities of the group cover a wide range of applications related to gene bank material-derived data. We have developed and continue to operate an IT-based plant genetic resources (PGR) information system aimed at facilitating access to PGR for researchers, breeders and other users, as well as to support the Gene Bank's workflow. In order to ensure the long-term availability of PGR-related data, our major focus is on the further development of both the Genebank Information System (GBIS) and the European Search Catalogue for Plant Genetic Resources (EURISCO). The research group is responsible for assigning permanent and unique identifiers for genebank accessions.
In addition, the group contributes to various international PGR networks and biodiversity informatics initiatives, including the maintenance and improvement of certain international biodiversity-related databases. The group is also responsible for the operation of IPK's meteorology station.
An overview of the most important information systems of the working group is available at https://genebank.ipk-gatersleben.de/.
scroll top
Projects
GBIS
The Genebank Information System (GBIS) is the central database and software for the management of accessions in the Gene Bank.
The GBIS/M subsystem is used to enter all information into the system and to organise the storage, reproduction, control and shipment of seed and planting material by the Gene Bank's assortment groups.
The second subsystem, GBIS/I, provides worldwide access via the website to the passport data of approx. 151,000 accessions - information on the identity, history, geographical origin and botanical classification of the material - including the North sub-collections in Groß Lüsewitz (potatoes) and Malchow/Poel (oil and fodder plants). Increasingly, characterisation and evaluation data (C&E data) of selected plant species are also published via GBIS/I.
Moreover, it contains an integrated ordering system for Gene Bank material.
Gene Bank data are provided in MCPD format for international PGR databases. Furthermore, the system is connected to IPK-internal and external systems via different interfaces.
EURISCO
The European Search Catalogue for Plant Genetic Resources, EURISCO, provides information about more than two million accessions of crop plants and their wild relatives, preserved ex situ by more than 400 institutes in Europe and beyond. EURISCO is being maintained on behalf of the European Cooperative Programme for Plant Genetic Resources (ECPGR). It is based on a network of National Inventories of 43 member countries and represents an important effort for the preservation of world's agrobiological diversity by providing information about the large genetic diversity kept by the collaborating institutions.
Moreover, EURISCO also assists its member countries in fulfilling legal obligations and commitments, e.g. with respect to the International Treaty on Plant Genetic Resources, the Second Global Plan of Action for Plant Genetic Resources for Food and Agriculture of the United Nation's Food and Agriculture Organization, or the Convention on Biological Diversity.
The germplasm accessions documented in EURISCO presently comprise more than 6,700 genera and 45,000 species.
AGENT
The Activated GEnebank NeTwork (AGENT) project is funded under the Horizon 2020 call "Adding value to plant Genetic Resources" (SFS-28-2019 B). AGENT is a concerted action to activate gene banks. It focuses primarily on wheat and barley and aims to facilitate access to genetic resources for breeders and farmers through standardised protocols for data generation, documentation and provision. Our working group is mainly involved in two work packages aimed at developing guidelines and formats for data production, data exchange and data presentation, and at developing the infrastructure for the management and analysis of genotypic and phenotypic data on genetic resources, respectively.
The AGENT project has received funding from the European Union's Horizon 2020 research and innovation programme under grant agreement No 862613.
INCREASE
The project "Intelligent Collections of Food-Legume Genetic Resources for European Agrofood Systems" (INCREASE), again funded by the EU under SFS-28-2019 B, will improve the management and use of legume genetic resources.
Focusing on chickpea, broad bean, lentil and lupin, INCREASE takes a new approach to the conservation, management and characterisation of genetic resources. These species represent a cross-section in terms of their potential value for sustainable food production. They are all strongly linked to European food traditions and needs and offer significant options for EU agriculture.
With the data management work package, our working group is providing a backbone to the project. Here the working group can capitalise on its dual nature as experts in genetic resource documentation and IT specialists.
The INCREASE project has received funding from the European Union's Horizon 2020 research and innovation programme under grant agreement No 862862.
scroll top
Staff
Kellner, Dr. Franziska

0000-0002-3424-6776
Oppermann, Markus

0000-0002-3370-3218
Weise, Dr. Stephan

0000-0003-4031-9131
scroll top
Publications