Mission
The group's focus is directed to some of the elements known to be essential for plant growth and development, in particular nitrogen, potassium and iron. We are investigating how these nutrients are taken up by plant roots, how they affect the plant's metabolism, how they influence the plant's development and what their effect is on the quantity and end-use quality of a crop plant's economic yield. Most plant nutrients are also essential in the human diet.
Additionally, it is of interest to gain a better understanding as to how individual nutrients are used for signalling during the plant's growth and development, for example how they affect the morphology and longevity of the root, and how they influence the synthesis of specific plant metabolites. It appears nutrients generally exert their effect indirectly: information regarding their availability is transmitted by various phytohormones, which in turn trigger a reaction in the plant's metabolism or growth.
As a result, the decision has been taken to establish a mass spectrometry platform, based on ICP-OES, ICP-MS and IR-MS, which is able to detect and quantify both phytohormones and nutrients. The resulting analyses are accompanied by a molecular biological approach based on mutants and/or transgenics which express altered levels of expression of key individual genes. The growth responses of these genetic stocks, along with their phytohormone and nutrient profiles, are used to determine the contribution of specific genes to the uptake of nutrients and the plant's metabolism and development. The underlying philosophy is that only by gaining an understanding of the effect of individual genes will it be possible to exploit them safely in crop improvement programmes seeking to enhance nutrient uptake or use efficiency and stress tolerance.
scroll top
Projects
Nutrient-dependent regulation of root architecture
Ricardo F.H.Giehl, Zhongtao Jia, Annett Bieber, Elis Fraust, Jacqueline Fuge
As sessile organisms, plants rely on efficient root responses to temporal and spatial changes of nutrient availabilities in soils for optimal growth and development. Studies from our laboratory have shown that changes in the plant nutritional status and in the external availability of different nutrients modulate root growth and developement over time by modulating the degree of branching, extension, placement, and growth direction of individual components of the root system (Lima et al., 2010; Giehl et al., 2012; Gruber et al., 2013; Giehl and von Wirén, 2014: Giehl et al., 2014). These observations indicate that nutrient-derived signals evoke distinct root architectural modifications by targeting specific root developmental checkpoints.
Currently, we are employing genome-wide association study (GWAS) and comparative transcriptomics to identify and characterize novel genes involved in such nutrient-dependent root architectural modifications in the model species Arabidopsis thaliana. The genes identified in our studies can be used as targets for breeding crops with optimized root system architecture to improve nutrient uptake efficiency.
Ammonium sensing in plant roots
Ying Liu, Markus Meier
Ammonium, as a major inorganic nitrogen source, triggers multiple physiological and morphological responses in plants, such as specific changes in gene expression, metabolism, redox status, and root system architecture (Liu and von Wirén, 2017, J. Exp.Bot.). Many of these responses are dependent on AMT-type ammonium transporters and are linked to a signal sensing event rather than a nutritional effect, indicating that ammonium acts as a signaling molecule in plants. Changes in root system architecture serve as an adaptive response of plants to fluctuating nutrient availabilities in soils and also as a morphological read-out for nutrient sensing. This also applies to ammonium, which modifies root system architecture by inhibiting root elongation and stimulating lateral root branching.
In response to ammonium supply, H2O2 accumulates in the root elongation zone which represses meristematic cell division and longitudinal cell elongation, thereby shortening primary root growth. By manipulating the level of H2O2 in roots, the inhibitory effect on root growth can be uncoupled from ammonium. In this context, a novel ROS scavenging process counteracting the ammonium induced generation of H2O2 has been identified by genetic screening. Our work elucidates how cell fate determination in roots is regulated by combinatorial effects of ROS generation and ROS scavenging under ammonium supply.
Compared to the primary root, lateral roots constitute the majority of the total root system and show a higher plasticity to heterogeneous nutrient availabilities (Giehl and von Wirén, 2014, Plant Physiol.). Local ammonium supply strongly stimulates lateral root branching in an AMT-dependent manner in Arabidopsis. Our current work shows that local ammonium supply shapes a highly branched root system mainly by stimulating lateral root emergence, and this response is most likely triggered by an altered distribution of auxin in roots exposed to localized ammonium. This line of research thus contributes to a better understanding of how local nutrient availabilities shape root system architecture.
Improvement of steress tolerance by redox-active proteins
Mohammad Reza Hajirezaei, Suresh Tula, Fahimeh Shahinnia, Nicole Schäfer
From an agronomic viewpoint, environmental stress conditions impose an increasing limitation on yield formation in crops. In cyanobacteria, flavodi-iron proteins are supposed to play an adaptive role in combating adverse enviromental situations that lead to an excess of electron pressure on the photosynthetic electron transport chain, such as high light, CO2 limitation or any other stress that uncouples NADPH production from its use in the Calvin cycle or in other metabolic routes. We use these cyanobacterial proteins to develop alternative biotechnological approaches in cereals to understand the importance of redox-sensitive processes in stress tolerance towards challenging environmental conditions.
Catch crop root formation and its impact on nutrient carry-over in agricultural systems
Diana Heuermann, Dagmar Böhmert
Catch crops are fast-growing species cultivated between two main crops. Amongst other positive impacts on the agricultural system, e.g. reduction of soil erosion, increase of soil organic matter, pest and weed control, the inclusion of catch crops in a crop rotation aims at reducing nutrient losses via their incorporation into their biomass and at carrying over scavenged nutrients to the following crop.
As the nuturient uptake efficiency of a species depends to a large extent on its root system architecture we study the vertical root biomass distribution of different species (white mustard, phacelia, bristle oat and Egyptian clover) at two experimental sites in Germany. Thereby we tackle also the question if a mixed cutivation leads to the occupation of distinct vertical niches via a qPCR-based root biomass quantification method using species-specific primers. So far, fast -developing species, which build the largest root and shoot biomass in pure stands, repressed the biomass formation of slower-developing catch crops and were even able to increase their per capita root biomass in mixed stands. The root biomass pool of the mix has thus a high relevance for nutrient capture by catch crops. Current experiments investigate the impact of neighbouring species and of soil nutrient pools on root system architecture in different field-grown catch crop species.
Importance of root senescence in crop plant performance
Zhaojun Liu, Esin Tunc
Aging-related studies in plant roots have mostly described changes in individual root properties over time, such as root browning or the degeneration of indvidual cell layers. To reveal a comprehensive picture of root senescence, we investigated morphological, physiological and molecular traits in seminal roots of hydroponically-grown barley plants. Transcriptome and phytohormone analyses were separately conducted in basal versus apical root tissues to distinguish the impact of plant age versus tissue age on the initiation and progression of aging-related processes in roots. Our data now allow describing a chronological sequence of morphological and physiological processes and regulatiory events underlying senescence of seminal roots in barley. Currently, we verify transcriptional regulators of root senescence in transgenic approaches to finally investigate the impact of root senescence on crop plant performance.
Iron acquisition by coumarin-type siderophores
Vanessa Paffrath, Ricardo F.H Giehl

Iron (Fe) is an essential micronutrient for plants. Although highly abundant in soils, its availability to plants is strongly decreased in calcareous soils which represent around one third of all cultivated soils worldwide. Under such conditions, Fe solubility is low, which limitis Fe uptake by plants and results in leaf chlorosis, impaired plant growth, and decreased yield and quality of harvested parts of crop plants.
Plants have evolved two basic strategies to acquire sparingly available Fe. Graminaceous plant species employ a chelation based-mechanism that relies on the synthesis and secretion of mugineic acid-type phytosiderophores, which can solubilize Fe(lll) by forming complexes with high affinity. In these plants, the whole Fe(lll)-phytosiderophore complex is then taken up by roots. By contrast, in dicotyledonous plant species Fe(lll) must be reduced prior to uptake by root-expressed Fe(ll) transporters.
Recently, our research group has found that dicotyledonous plants also release small molecules with Fe-chelating and reducing properties (Schmid et al. , 2014, Plant Physiol.; Rajniak et al., 2018, Nature Chem. Biol.). In several of these species, these molecules consist of a class of courmarin-type siderophores derived from the phenylpropanoid pathway and that are thought to assist the membrane-bound Fe(lll) reduction mechanism by solubilizing and reducing Fe(lll) from insoluble sources. Although the identity of major enzymes involved with the synthesis of these coumarins has been identified, the precise biochemical mechanisms underlying coumarin-mediated Fe acquistion still remain unclear.
In this project we use Arabidopsis thaliana as a model organism tofurther inverstigate the role of coumarin-type siderophores in Fe acquisiton. Our goal is to characterize the compositon of root exudates under different Fe-limiting conditions and assess which of the exuded components exhibit Fe chelation and/or reduction properties, as well as to identify further molecular players involved in the synthesis and release of coumarins in Fe-deficient plants. Our approaches include the collection of root exudates of different Arabidopsis mutants and over-expression lines, the analysis of coumarins by LC-MS/MS and vitro Fe(lll)-mobilization/reduction assays.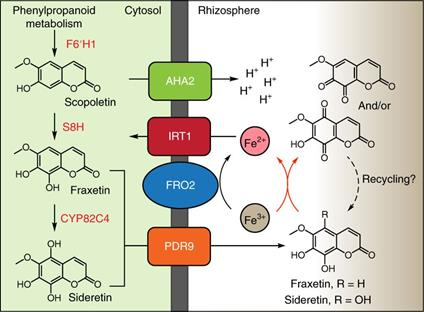 Screening for wheat lines with enhanced nitrogen uptake capacities
Bijal Thakkar, Barbara Kettig
The new amendment of the German fertilizer regulation leads to an enhnced pressure on decreasin N fertilizer applications to winter wheat. To better expoit fertilizer nitrogen it is imprtant to improve physiological and morphological root traits that can enhance nitrogen uptake by roots. We exploit the genetic variation of the IPK genebank in early N uptake efficiency a dual approach. On the one hand, we search for allelic variation in ammonium and nitrate transporters in wheat that may show more fvourable biochemical transport properties to enhance nitrogen uptake. On the other hand, we screen pre-selected lines of the IPK genebank for their nitrogen uptake capacity using 15N-labeled ammonium nitrate.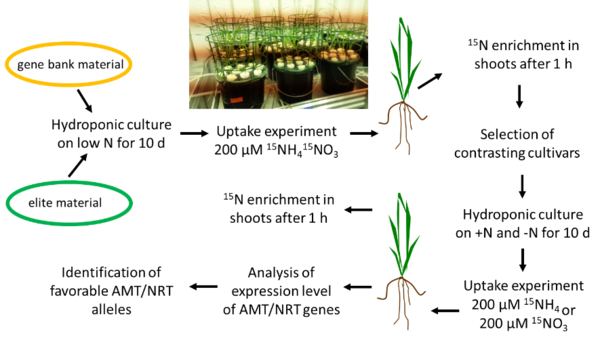 Bioinformatik @ Abteilung für Physiologie und Zellbiologie
Dr. Anja Hartmann
In enger Zusammenarbeit innerhalb und außerhalb der Abteilung für Physiologie und Zellbiologie konzentrieren sich die Forschungsaktivitäten vor allem auf die Systembiologie einschließlich Modellierung, Analyse, Simulation und Visualisierung biologischer Prozesse unter Anwendung Systembiologischer Standards. Zusammen mit Pflanzenphysiologen, Molekularbiologen und Biochemikern werden komplexe wissenschaftliche Fragestellungen in Bezug auf die Pflanzenernährung, das Wachstum und die Ertragsbildung, dem Einfluss von biotischem und abiotischem Stress, sowie Nährstoff-Effizienzmechanismen behandelt. Zur Unterstützung der intuitiven Erforschung und Interpretation von mehrstufigen –omics Daten im funktionalen Kontext werden Pipelines zur Ableitung biologischer Netzwerke und zur Integration von Daten in biologische Netzwerke, wie regulatorische und metabolische Stoffwechselwege entwickelt.
Das Hauptforschungsziel besteht darin, die funktionelle Beziehung von Genen zu bestimmen, die für Veränderungen in der Wurzelsystemarchitektur verantwortlich sind und Nährstoffsignale in die Wurzelentwicklung integrieren. Zur Analyse umfangreicher Datensätze, werden R-Skripte für lineare Modellierung, Clustering, Anreicherungsanalyse und Netzwerkinferenzansätze in Kombination mit der Integration öffentlich verfügbarer Datensätze entwickelt.
scroll top
Staff
scroll top
Publications